For a 1400 sq ft house this premium is about $16 per square foot or $22,400 in addition initial cost due to energy related items when compared to conventional construction. This cost premium represents about a $130 per month increase in a 30 year mortgage while the building technology is estimated to save about $160 each month in utility bills.

This creates an instant monthly saving of about $30. And because you're not subject to rising energy const you'll save an estimates $46,000 over the life of your 30 year mortgage.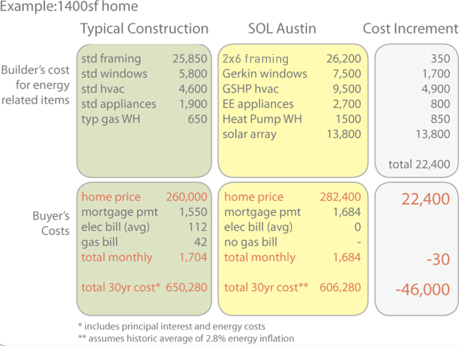 Directions to Sol
Neighborhood Map Sol Austin
1127 Perry Road
Austin, TX 78721

512.374.0946 x 29


Net-Zero Energy Formula
Water Conservation
Site Stewardship
Material Selections
Financial Model
Sol balances the financial and environmental impact of sustainable development with its political merits and implications.



"As architects, we have a responsibility to take a longer term view of development and conceptualize more holistic, sustainable models."
– Chris Krager, KRDB